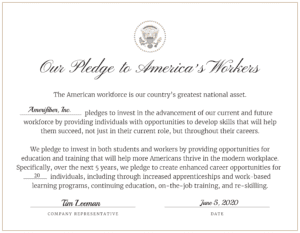 Roswell, GA – June 15, 2020 – Amerifiber, is pleased to announce its signing of the Trump Administration's "Pledge to America's Workers" committing to certify workers to empower new or advanced careers in the dynamic telecom industry, the announcement was made today by CEO, Jim Leeman and General Manager, Tim Leeman.
Amerifiber has pledged to help continue to provide American workers by creating  Internships and apprenticeships to future college students and deserving candidates, providing current employees with continuing education and on-the-job learning, as well as help to build awareness in the local community to prepare a stronger, better-skilled workforce for the future.
"Arming American employees and those young recent graduates with advanced opportunities in the telecom and fiber optic space is vital to the health and growth of the United States economy," said Jim Leeman. "We're honored to be working alongside President Trump in this important initiative."
In July 2018, the Trump Administration launched the Pledge to America's Workers, an initiative that called on job creators and trade organizations to commit to educate, train, and re-skill America's workforce. Since its inception, more than 400 companies and organizations have signed the pledge to create over 16.3 million new opportunities for education and skills training for workers, including apprenticeships, on-the-job training, and continuing education.
"President Trump and his administration are focused on providing rural America with broadband access," comments Tim Leeman, General Manager. "Amerifiber is committed to working on the White House's initiative of providing all Americans with fast access Internet connectivity. We're extremely proud to work with the President and the White House to achieve these goals.
About Amerifiber – Founded in 2004, Amerifiber is a full service, customer first manufacturer, and distributor of the best in class fiber optic and custom FTTx products. With over 30 years in the telecom industry, Amerifiber's team has the knowledge, resources, and expertise to create custom-built, high-quality fiber optic solutions. The company is committed to providing the FTTx solution that best meets a client's needs by merging best-in-class hardware with an incredible attention to detail and the ability to deliver on-demand. The company is based in Roswell, Georgia. www.amerifiber.com